Why Trusting Us for Your York House Removals is Worth the Investment
Moving to a new house can be both exciting and stressful. From packing up your belongings to organizing transportation, there is a lot to consider. One of the most important aspects of any move is finding a reliable removals company to help you with the process. While some may be tempted to save money by undertaking the move themselves or hiring an inexperienced company, it's important to consider the benefits of trusting professionals for your York house removals.
Let's explore why investing in a reputable removals company can save you time, money, and stress in the long run. From their expertise in packing and handling fragile items to their ability to efficiently transport your belongings, professional removals companies offer a range of services that can make your move a success. So, let's dive in and discover why trusting the experts is worth the investment for your York house removals.
Benefits of Hiring Professional House Removal Services
DIY house removals may seem like a cost-effective option, but it comes with its own risks and challenges. First and foremost, you may not have the necessary experience and expertise in packing and handling your belongings, which can result in damage or loss of items. Additionally, you may not have access to the right equipment and vehicles needed for the move, which can lead to accidents and injuries.
Another challenge of DIY house removals is the amount of time it takes to complete the process. Packing up your belongings, loading them into a vehicle, driving to your new home, and unloading everything can be time-consuming and exhausting. This can be especially challenging if you have a busy schedule or need to be out of your current home by a certain date.
Finally, DIY house removals can be stressful and overwhelming, especially if you're moving for the first time. You may not know where to start or how to organize everything, which can lead to frustration and anxiety. All of these challenges can be avoided by hiring our professional house removals company in York.
If you hate moving home, you'll really love us! 1 Van 1 Man have been carrying out stress-free house removals in York for decades for residents, students and businesses. We love helping the local community settle into their new homes, being an integral part of their new lives and ensuring they enjoy a painless household move. Our five star rated service operates throughout York, Yorkshire and the UK - wherever you reside, we'll be happy to assist!
Additional Services Offered by Our Professional House Removal Team
Here are the typical perks of a 1 Van 1 Man Removals move? Our customers enjoy the following, to name a few:
Professional, respectable and uniformed staff
Large, small and internal moves catered for
Flexible move packages such as You Load for those on a budget
Optional furniture dismantling/assembly for large or flat pack items
Carpeted, secure and fully insured removal vans
Removals in York, across Yorkshire and throughout the UK
5 star rated service across multiple platforms!
Every house move is undergone as if it were our own. We appreciate it can be a stressful time, which is why we approach every job with care, diligence and a friendly smile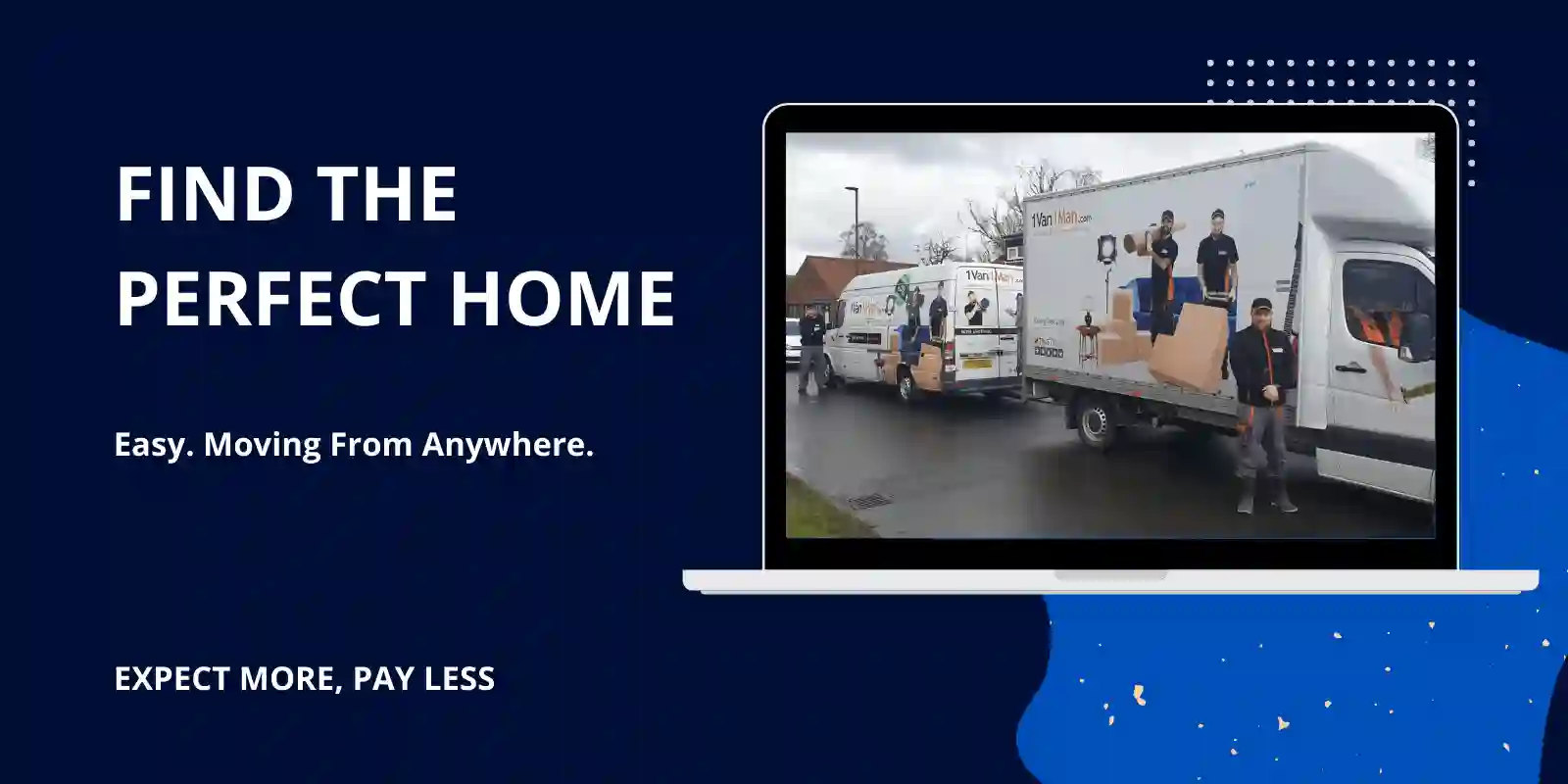 Unparalleled Expertise: Trust Our House Moving Company's Vast Experience
As a local York removals firm we've helped many couples and families start new lives in their new homes. Always with a focus on keeping the costs low, we provide a friendly service that puts our customers first.
Hiring us as a professional house removals company in York can offer a range of benefits that make the investment worth it. One of the biggest advantages is the expertise and experience that professionals bring to the table. We have the necessary skills and knowledge to pack and handle your belongings with care, ensuring that everything arrives at your new home in one piece.
Another benefit of hiring professional house removals services like ours is the safety and insurance considerations. Professional companies are required to have appropriate insurance to protect your belongings during the move. This means that if something is damaged or lost during the move, you'll be compensated accordingly.
Cost-effectiveness is another benefit of hiring professional house removals. While it may seem like a more expensive option upfront, it can save you money in the long run. We have the right equipment and vehicles to transport your belongings in a safe and efficient manner, which can save you time and money on rental fees and fuel costs.
Whether you're retired, newlyweds or upsizing for a growing family, we've got you covered. We move every part of the household - from sheds, pot plants and cabinets to playpens and pianos.
More than a set of wheels - Get free home moving advise - just call our company!
Over the years we've gained a lot of knowledge in the home moving arena and we can speak with authority when giving money saving, time saving and stress saving advice to you.
We pride ourselves on being more than a set of wheels; our staff are learned, experienced workers in the removal trade and can advise you on every step of the way. That's why this site is brimming with moving advice and house buying tips, because we know those are the sort of things you appreciate learning about.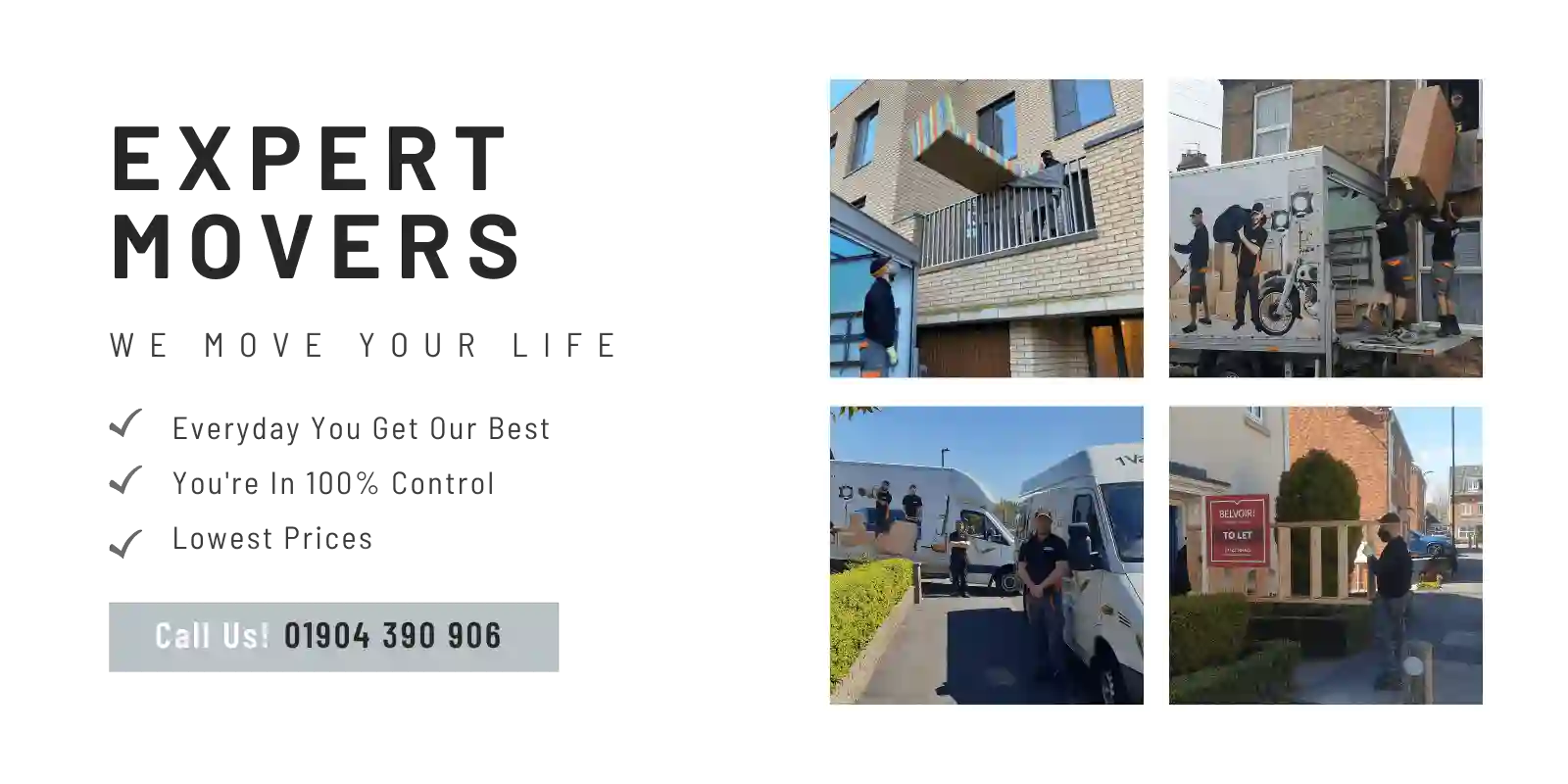 A home moving service tailored to your needs
From moving small flats to whole manor houses, we have the experience and expertise to carry out your York removals quickly, efficiently and at the best price. No two jobs are the same, which is why every quote we offer is tailored to your specific needs. Each job in our calendar is about that specific customer, assessing their circumstances and making sure our staff give them the best possible experience.
From York to London or anywhere in the UK
From our base in York we can move you to anywhere in the UK and Europe, allowing you to benefit from our friendly service no matter where you choose to roam.
Our transparent pricing system allows you to work out the costs before you move, without worrying about hidden extras or nasty surprises.
Our focus is on flexibility, high quality and stress free removals as we know that without your satisfaction we wouldn't be a business at all. This is why no matter how many five stars we receive on Google, we'll always be searching for that one more!
From 1 bedroom house removals to whole estates
From 1 Van 1 Man to move a small one bed house to a collection of well-maintained vehicles and men, we have the manpower and the engine power to move you without the stress. Taking care of your possessions, we always respect every box we handle as we know you've trusted us with your personal items and want them to arrive in one piece.
We're also fully insured should an accident happen (it hasn't so far!), giving you peace of mind that we've got you covered from every angle. Our extra services such as cleaning and packing can make your home move easier still allowing you to relax knowing the nitty gritty is taken care of.
If you need advice during your home move we're always here to help, check out our blog section for a wealth of information that could save you money and frustration.
---
Request house removal quotes now
Here at 1 Van 1 Man we offer a York Removals service that meets all of your needs, tailoring the removals to your specific situation our aim is to always remove the stress while you pay less.
So what are you waiting for? Let's get your move on the road, call us, or request your quote. We're ready to transport you and your property to a whole new world (even if it's just next door).
Let us choose the home moving solution bespoke to your budget & relax knowing your move is taken care of.
---
Go back and view all our Services.