Are you looking for a large furniture removal service?
Our furniture removal service is ideal for both single and multiple item pickups and delivery. From our historic base in York, we can pick up and deliver any large furniture items to you, no matter where you are. Consider us your local, affordable alternative to traditional furniture moving companies in Yorkshire.
Whether you need a sofa transported from Leeds to Land's End, or a wardrobe moving from Fort William to Whitby, our furniture removal service is here to help every step (or wheel turn) of the journey!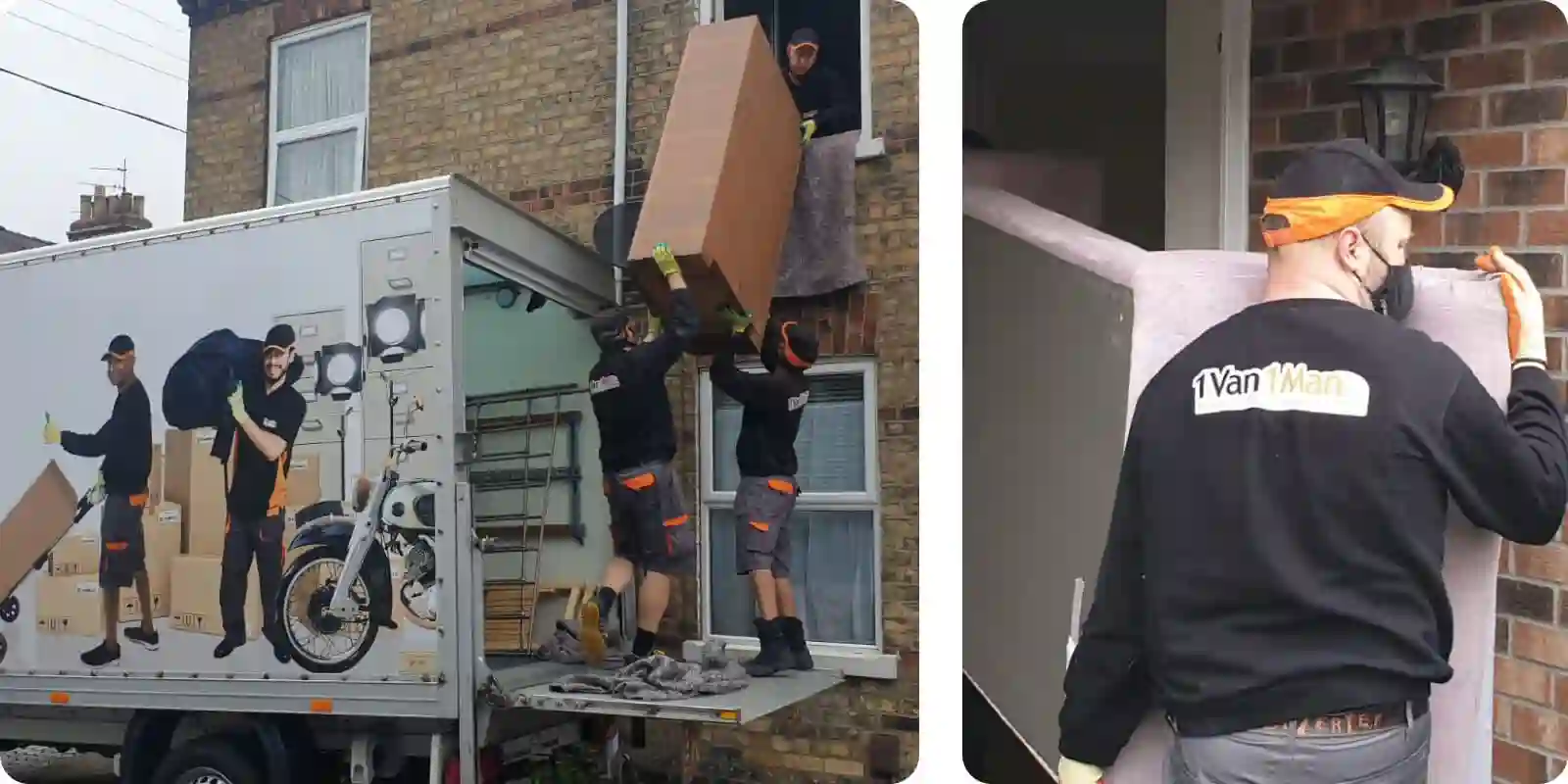 Furniture removal service - benefits using a man with a van to collect furniture
Large, heavy, and bulky items are loaded and unloaded at your chosen destination
Speedy, smaller-scale alternatives to courier firms are available
Items are neatly packaged by moving professionals using safe and secure materials and equipment
Perfect for installing or removing white goods
A hassle-free way to get rid of old furniture
Fully insured from start to finish
Professional, uniformed staff who are experts in the field
Reliable, modern vans maintained to the highest standards so your goods can travel safely in style
Alongside our industry expertise, we're especially proud of the consistently high level of customer service we're renowned for, you only have to check out our Google Reviews to see what a friendly team we are here at 1 Van 1 Man HQ!
Hire our expert movers to handle moving large furniture or white goods
It goes without saying that our spacious vans are more than up to the challenge of transporting bulky furniture and weighty white goods across Yorkshire, and while we're most often called upon for big house moves, we're also happy to be able to provide this service for smaller, more focused tasks. Whether you're selling a sofa suite, treating yourself to a smart fridge or upgrading to a fancy new washing machine, you can be sure that we have the means and the know-how to transport it. Just tell us the pickup address and the destination, and our team will handle the rest. That means you don't have to do anything but wait for the doorbell!
Secure, quality packaging
If we were ever asked to go on Mastermind, safe packaging and secure transport methods might just be our specialist subject, well that or Yorkshire's road network from 2008 onwards! All of our staff are fully trained to ensure they use only the right packing materials and handling methods for your items, so you can rest assured that they will arrive safe, secure, and free of any dust or debris - exactly as they were loaded and exactly as you expected. We're proud of our reputation for excellence, which has come about through always having the utmost respect for our customer's property and always going that extra step.
Tailored to you
As is the case with all of our services, we will tailor our large item pickup and delivery to suit your individual needs, ensuring you pay the best price possible, no matter where you need us to be across Yorkshire and beyond. We're not in the business of overselling or adding extra costs, we will always recommend the van and person power that is needed for your task - nothing more and nothing less.
Furniture removal quotes - broaden your shopping horizons
Knowing we're here with our single and multiple item collection and delivery service means you can shop online with confidence, knowing that no matter the size of the item we can move it safely from A to B for you. Being able to shop around across online stores, marketplaces and auction sites means you could end up saving yourself a tidy bit of money, even when factoring in our (admittedly very reasonable) transport costs.
Get a quote
What else can we do?
Why not check out our individual service pages for more on house moves within and beyond Yorkshire's borders, large and bulky item collections from big-brand stores, and even furniture assembly. If you have any questions at all, contact our friendly team on 01904 390 906, or through the dedicated web form and we'll do our best to answer any queries as soon as possible.
We look forward to removing the stress from your move.
---
Go back and view all our Services.