About our van & driver hire rental service in York
Here at 1 Van 1 Man Removals, we're always looking for ways to make moving easier and more affordable for customers old and new across the fine city of York. We're rightly proud of our van and driver hire service ( AKA: You Load Service) as it does exactly that.
Through assessing customer's needs and listening to feedback from our clients in York we've brought you a van and driver hire service that saves you a lot of time, money, and stress, all while leaving you in complete control.
York's Self-Removals Solution - Rental of van & driver hire - AKA (You Load service)
Our You Load service, which is offered to residents of York within a 10-mile radius of the city walls, allows you to benefit from the hire of one of our spacious, well-maintained Mercedes vans and is recommended for loads under 20 Items e.g., 1 bedroom.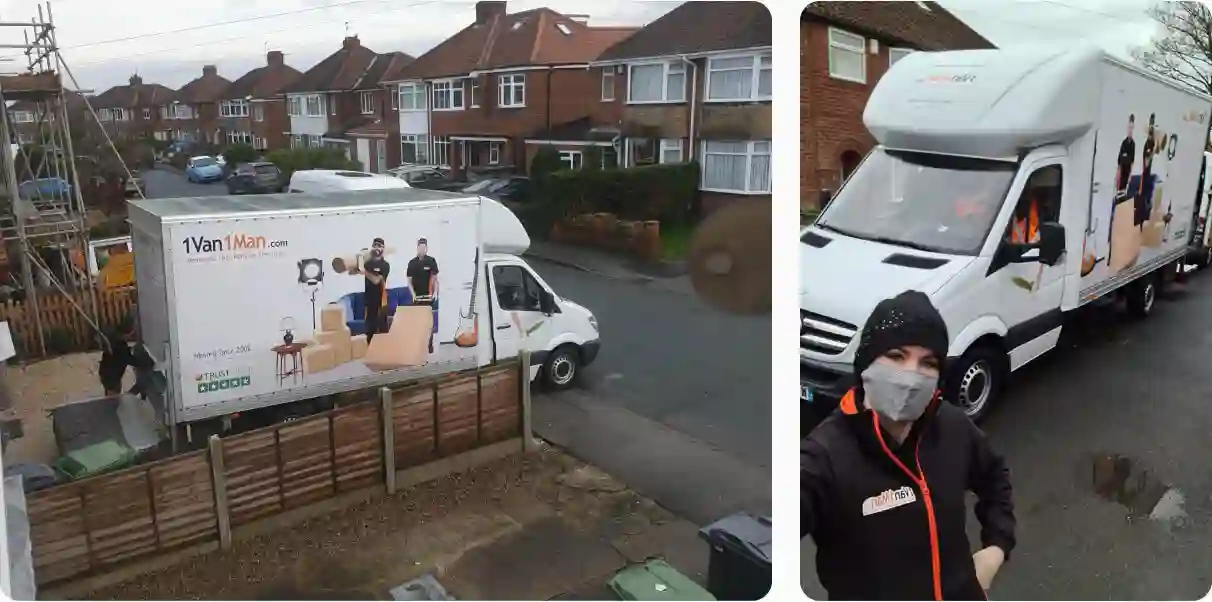 What are the benefits rental of our van & driver in York?
The main difference from a traditional removal service is that although you do get a driver, you load and unload the items yourself. This allows you to benefit from van rental or hire without all of the usual hassle of hiring a van - finding your required paperwork, having to take time out to pick up and drop off the van, and of course the additional costs that can go with other van rental hire options.
One of the biggest benefits of the van and driver hire rental service is that you don't have to worry about picking up and dropping off the van, you simply load up and let our experienced driver take your items to your destination. This not only saves you time but can save you some serious money too.
Who is a typical You Load customer?
The short answer is, there isn't one! We first introduced van and driver hire rental (AKA: You Load Service) because we like to listen to our customers, and many had asked about cheaper option to move few items across York. Over the years we've been operating in York, we encountered a significant number of situations where it was obvious that customers would have been happier and more at ease with the convenience of a self-loading removal service.
You Load - customers might include:
Students across the city, including those at the University of York and York St John with many helping hands to spare
People planning smaller-scale moves such as from an apartment or single-occupancy bedsit
Customers on a budget - cheap van and driver hire in York
Energetic folks that love to a good graf and / or have very helpful friends!
These are just some of the people that might need a van removal service, but not necessarily the full package. You Load fills that niche, letting people move with more flexibility, more affordably.
You-Load Quote
Enhanced van & driver hire (You Load) vs our full removals service
Please note that as this is classed as an enhanced van and driver hire hire service, meaning you're responsible for loading the van, your items are not covered by our insurance. We'd highly recommend checking your home contents insurance though as it's likely to be covered by yours!
Information on our fully insured, fully assisted, and fully loaded removal service can be found here. While not quite as financially frugal as You Load, it is far better suited to larger scale jobs that require our expertise across the board.
Our rental of van & driver top money-saving tips
Time is money so we've put together a few tips to make sure your You Load move goes as smoothly and efficiently as possible:
The clock starts ticking the moment the van arrives, it's therefore better that your boxes are as close as possible to the pickup point. Move as much as you can downstairs or, on a good day (classic Yorkshire weather permitting), into your front garden or yard

Many hands make light work - remember that favour your mate owes you? Call it in! Get as many friends and family members to help you as you can
Pack well! Fewer trips will save you money, so avoid shoeboxes and ensure that your goods are stored as efficiently as possible - think Tetris without the digital music and lots more bubble wrap…
If you'd like to take advantage of our ever popular You Load Service and save yourself pots of money on your next move, call us on 01904 390 906, or get in touch through our Contact Us page.
Remember, we only offer this to those who are moving within a ten-mile radius of York!
---
Go back and view all our Services.